Sep 11/Elul 16
17 of 40
Prepent: 40 daily reminders to change for good and go into a new year, better. read more/subscribe
9/11 remains for many of us in NYC and around the world a painful memory of tangible terror. I still live in the same downtown NYC building as I did on that day, this day, and running home that day from work still comes back to haunt me on some days when I walk down the street, with no reason to be afraid at all, and yet.
Isn't that exactly what terrorists want? There are ways to mark this day, mourn the losses, honor life – but not give in to fear or terror. Don't let them win. Don't let fear have the upper hand.
Not that it's not real. The cruelty of ISIS, the rage of Hamas, police brutality, domestic abuse, Ebola,  date rape and climate change not to mention cancer, car crashes or just loneliness – there are valid fear factors to keep us all on Xanax for life.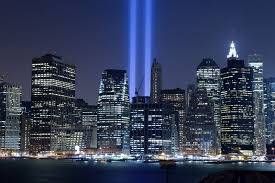 But fear can be debilitating and giving in to terror with our shoes off and one eye always over our shoulder only breeds more neurotic living.  yes to reality check and prudence yes, but can we say no to giving our fear so much power?
At this stage in my life my mundane fears are not about mortality, but they are about pain and loss. I am increasingly aware of how fears hold me back from going for goals and achievements, masked as insecurities and do called facts on the ground.
I wake up in the morning and the negative thoughts start playing – fears of not being loved, of not making it, of being too much this or too less that, etc.
This past summer in Israel there were actual moments of fear for life as rockets were flying, sirens sounded, doubt and confusion took control.
But then I learned, and am trying to keep on learning,  how to take control back.
Reb Nachman of Breslov taught: The world is a narrow bridge, and the most important thing is not to be afraid.
Fear less. Trust more. Be wise and vigilant but not driven by the terror of what may go wrong. Save fear for moments when it really matters. What will be will be.
Today, as a tribute to all victims of terror, want to fear less, love more, to fix my default knee jerk reaction and Jumpstart a calmer year of trust, hope, less afraid, more present in the here and now.
May memories become blessings, always. May we walk through life without terror at all, this coming new year, and always.