21 of 40
9/15 Elul 20
Prepent: 40 daily reminders to change for good and go into a new year, better. read more/subscribe
suck it up and say you're sorry. 'Tis the week to apologize for what we've done wrong to self, loved ones, other ones, anyone, the earth, who else? just do it. sorry goes a long way. #prepent5775
dig up the drafts in your inbox. pick up the phone (harder, better) . look that person in the eye which is even harder and def. long term better. Some tensions, fights or broken friendships are new and maybe easy to amend, others older, sometimes really old, just hanging there like leftover luggage – 'we haven't talked in years.'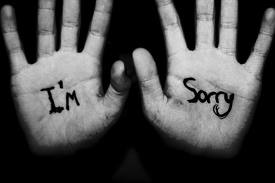 not all situations can be fixed with simple 'sorry' and not can happen this week or month just because of Yom Kippur. Some wounds take time to heal. but sincere reaching out to people we have harmed intentionally or not, with words, deeds, carelessness or malice, goes a long long way. 'Tis the season for sorry. 'Tis the week in fact. Pious Sefardic Jews have been saying the extra morning 'sorry' prayers for the past 21 days. Those of us from European origins begin  this coming Saturday Night– the express lane.
I devote this entire week to ways to say I'm sorry. To myself, to family, friends, colleagues, others, mother earth.
Who's on your sorry list today? tomorrow?
Yikes. Go.