26 of 40: repeat or repair. What can you do 2day, next year 2 reduce your carbon footprint and save earth?wake up and change.#prepent5775
I'm excited to march today in the world's biggest climate change march in history.
I'm told there will be an inflatable mosque and a live size Noah's Ark in the faith-communities section. Yay!?
Coinciding with the upcoming New Jew Year, and the Shmita/ Sabbatical Year – this is  timely and auspicious reminder to wake up to what we need to do, for real, right now, so that this planet survives for a few more generations.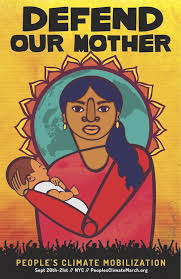 Becoming a parent changed a lot of this perspective for me. This is real and raw and will impact my children in ways we can not yet imagine. No matter how much inconvenient truth has been thrown in our faces, most of us still stick to the comfortable lifestyle we have and do something to sooth our consciouses and hope for the best.
But. That's not enough.
Last year in San Francisco I heard a prophet call out and read his book and am more aware than I had been. Mark Hertsgaard talks about us as the HOT GENERATIONS and he writes this in his intro to his recommended book: Hot: Living Through the Next Fifty Years on Earth:
"Everyone who finally 'gets it' about climate change has an 'Oh, shit' moment, an instant when the pieces fall into place, the full implications of the science at last become clear, and you are left staring in horror at the monstrous situation humanity has created for itself."
Whether you are marching today in NYC or not. Take the time today, just a few minutes even,  to pause, and think, and look around, and prepare for the year ahead with solid resolutions: what can you do to reduce, recycle, revere our earth and do what you can to make a difference?  How can you reduce your carbon footprint? here are a few ideas.
Some say it is but others say it's not too late to save this planet for our future generations, and perhaps not even so far ahead.  How many happy new years do we want?
If not now, when?
On to march. With shofar in hand.