g
33 of 40:
Sep 28/Tishrei 3
Prepent: 40 daily reminders to change for good and go into a new year, better. read more/subscribe
Stop Starving My Soul: What I learned from Orange is the New Black about Repenting.#prepent5775
One late night last week, amidst the prep and overload for these holy high days I took a break to visit Netflix and finally catch up on Orange is the New Black – created by Jenji Kohan, a genius I am proud to call my friend. (sorry it took me so long Jenji!)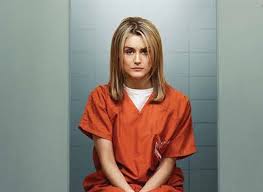 Maybe it was just what's on my mind or maybe the subtext is really all about useful tips for human growth, crime and punishment (it IS a show about a prison) but instead of distraction I found myself deep inside a conversation about repentance, forgiveness and the power to really change.
Episode two features Piper, new inmate in a women's prison, getting acclimated to a world with different rules. She makes the big mistake of insulting the food in the presence of 'Red'  – another inmate (who came up with that word??) who is in charge of the kitchen and as a result denies Piper food,making her come up with some way to fix the situation. A most sincere apology gets scoffed at: 'You have to fight for your rights here' she is told. But she is not a fighter. Not yet. So she comes up with another plan to appease Red, whose back is aching badly. With ingenuity, hard work, and kindness of strangers (with their own agenda)  Piper does what she is good at – creating a soothing back cream that will helps Red feel better and gets Piper her right to be fed.
So yes, this is about remorse, forgiveness and a second chance – in the larger context of  social reform and how bad behavior gets rewarded, but what does this deeply have to say to the process of return/teshuva – that we are now really in the thick of on with just six days to go before the final day of judgement?
Metaphor. Just like in interpreting dreams, all the characters here are really me. Red is not just mean – she has her own pains and memories and grudges and is teaching Piper – and me – a lesson about standing up for one's self in a tough world where solutions exist to fix big and small problems.  Red is that part in me that is the holder of the insults and all that I inflict upon myself – and is 'punishing' my deeper self  by starving me/it for of some of my joys and needs and yearnings.
How do I appease that part? How do I go beyond saying I'm sorry to myself for being my own worse enemy at times – to actually changing the situation and changing – for good?
Well, there's Piper – that part of me that is most me – the hero of my journey, with a big mouth at times and good intentions gone wrong and yearning to make it alright, and sometimes, starving for affection, love, affirmation, nourishment of all kinds.  How does my inner Piper get it right and get back on track of the soul food needed to exist, to thrive?
1.Start off my asking myself – where am I hungry? deprived? what's missing from my daily diet of life?
2. this may be a stream of consciousness exercise or a brave meditation: Beyond external factors – what part of myself is denying me this sustenance? picture it, give it/him/her a name.
3. Take responsibility to my part in this situation. Apologize to your inner Red – to yourself – for whatever you've done or are doing wrong.
4. Figure out (the hardest part?) -what are my inner tormentor's needs and vulnerabilities. Red's bad back is Piper's salvation. She notices another's pain and by helping Red – helps her self.
5. What can I do about it? what are the gifts I can come up with and work to honor all my  selves with this bribe of honest good intentions?
I'm not saying this isn't complicated and kinda crazy. Talking to yourself is somewhere between madness and meaningful meditation. Find that happy medium in between. Identify the hunger, the cause, the gift to make things better  – this is the essence of these days of return, the repeat or repent and repair pattern that leads us day by day into Yom Kippur and the rest of our freer lives.  Also today IS a minor Jewish fast day – prep for the big one coming up this wknd.. so.. everything fits.
(and if you are wondering, no, I'm not binging on Orange is the New Black. At least that inner tormentor is being well handled and my appetite for inspiration/distraction is handled with care.)