REBBETZIN HADASSAH GROSS is an international lecturer and motivational speaker with expertise in the Hebraic Oral Tradition, Hasidic teachings, and Practical Kabbalah. She's "Older than Moses; Younger than Spring."
Jews and Theater in an Intercultural Context
Born in Budapest, Hungary in the mid 1920's, Rebbetzin Gross is descended from an illustrious Hasidic dynasty, is the widow of six prominent rabbis and has established herself in the Jewish community and beyond as a personal soul-trainer to the ultra-orthodox elite (and elitists from all faiths and backgrounds). Her personal philosophy purports that, "A little bit of irreverence is very good for battling irrelevance. Humor is very important to touch the soul."
Hadassah is "radiant! An elegant creature in Italian shoes and tailored clothes" (The Forward) and is called "part of a broadening, unconventional movement to teach Torah and prayer to an ever-growing audience across America" (Jerusalem Report).
She has appeared before thousands worldwide in venues such as BAMcafe, The Ashkenaz Festival for New Yiddish Culture (Toronto), The Museum of Jewish Heritage, JCC Manhattan, JCC San Francisco, Burning Man Festival 2003, Lansky Lounge (NYC), the Belt Theater (NYC), Echo Club (LA) and the Limmud NY Conference. Hadassah was featured in the Channel 10 Israeli TV series "The Search for the 10 Commandments", (March 2005), and in a feature cover article for Ha'Aretz Magazine (October 2004).
*Please note the Rebbetzin is on hiatus as she embarks on a worldwide expedition.
VIDEO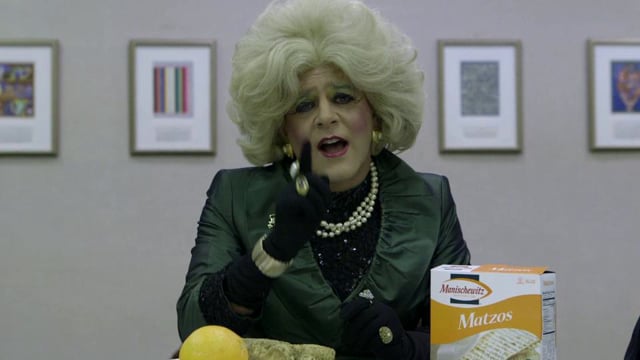 Apple on Your Seder Plate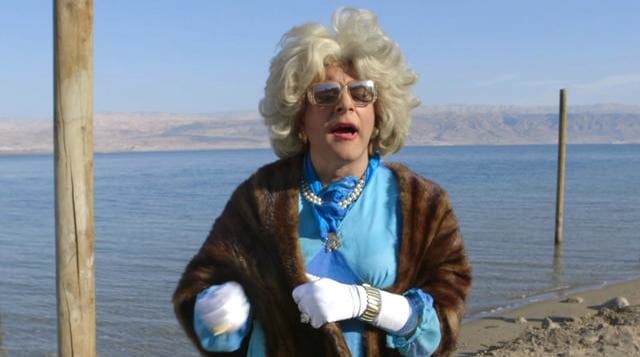 Live From The Dead Sea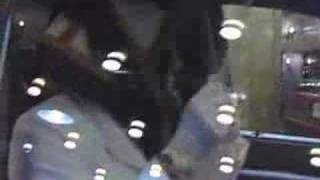 High Healing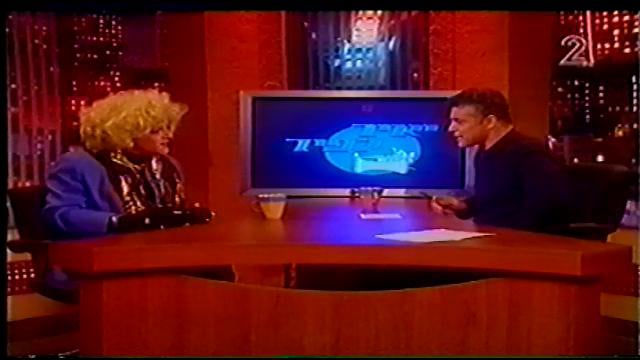 Hadassah Gross meets Yair Lapid (in Hebrew)
Apple on Your Seder Plate

Put an Apple on your Seder Plate. This Passover, add a new symbol to your table and ask new questions about global economy, consumer responsibility, human rights, what we can do to be more of the solution, less of the problem. Passover is the allegory for human freedom, then and now. Why an apple? It's a mythic fruit and a modern icon reminding us of the ethical responsibility that comes with privileged consumerism. Apple is not only the world's largest corporation, providing our goods - at a price to its workers - it is also the one that took allegations seriously and launched a serious investigation to improve its China workforce. Put an apple on your Seder plate to raise awareness and keep on the good fight.

Live From The Dead Sea

Rebbetzin Haddassah Gross, still deep inside the Dead Sea, where she descended just last Purim on a dangerous mission to rescue the Divine Presence, somehow also managed to produce a timely twist on the classic Esther Scroll! Inspired by Disney's latest Oscar winning song AND the world's best seller, fueled with faerie dust, celebrating the courage of queens and the fabulous freedom to be who we are. Hadassah sends her love and wishes all a proud and really happy purim! (she'll be back…)

High Healing

REBBETZIN HADASSAH GROSS is an international lecturer and motivational speaker with expertise in the Hebraic Oral Tradition, Hasidic teachings, and Practical Kabbalah.

Hadassah Gross meets Yair Lapid (in Hebrew)

In 2007 Yair Lapid, then host of one of Israel's most talked about talkshow hosted Rebbetzin Hadassah Gross for a short chat about their shared Hungarian legacy. The interview was followed by a chat about radical Jewish approaches with Amichai Lau-Lavie.
PRESS
The Jerusalem Post, April 6, 2012
Haaretz, October 1, 2004
Forward, May 14, 2004
FEATURED IN
by Edna Nahshon
by Andrea Most
by Carol Zemmel
by Carol Zemmel